Nikki Holland & The Dirty Elizabeths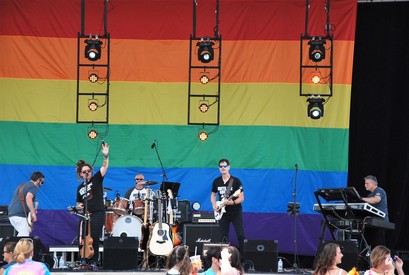 Doing Some Good, and Doing it Great
We play Dirty, but we're here to help. Part of the joy of playing music, is being part of a great community. So we play hard, get dirty and give back. We donate proceeds of our merch sales to human rights causes. We stand for equality. We play for animal rescues, and we might just be the ones who bought your meal ahead of you at the drive-thru.

Having had the great fortune of spending some time with the media between Cave Radio and the Windsor Star, we wanted to say "Thank You" by giving some stuff away (yeah, pretty cool). So since our radio show on "Unite Us All" (Cave Radio) includes talk about our song written for Nikki's foster kids, you can download it for free right here. This song is for all those mentors, foster parents, coaches, teachers, and others who make a quantitative difference in the lives of kids who've been abandoned in one form or another. Stand Strong. Until We Are Equal, Be Greater Than.

---
---
In The News...

'Equality will come by raising each other up'
Local band aims to make a difference
MADISON HEIGHTS — The mass shooting at the Pulse nightclub in Orlando June 12 sent shockwaves not only through the gay community, but across the nation as a whole. Nearly 50 people were murdered that night — a cruel reminder that hatred exists in this country, and for many people, a call to action to fight hate with love.
For Nikki Holland, of Madison Heights, it gave her a new sense of purpose. Her folk-rock band, Nikki Holland & The Dirty Elizabeths, came up with a slogan, "Until We Are = Be >", rallying people to...
Read the full article here... (www.candgnews.com/news/'equality-will-come-raising-each-other-up'-98183)
---
Have we got merch for you!
We Dirty Elizabeths welcome the cooler weather because we get to sport our beanie hats and hoodies. Yes, this is a time to show your power clashing colors or high hipster fashion. No matter where your choices take you, the Dirty Elizabeths have some cool gear this season to keep you warm and cool like a magical cloak of amazingness. Check out some of our items in our
Store
.
What fans are saying about our shows...
"What isn't to love about this amazing band!!! First off they make a great team. They get the crowd going. They have an amazing crowd of fans. I'm one of them :) I come from Windsor Ontario to any show I can make. Love
Nikki
and her band. Always a good show you will never be disappointed. All there original songs get you singing and you know the whole song before it's done.
:)
and the cover songs get the place going as well...." ~Erin, Windsor, Ontario Canada

BAND MEMBERS:
Nikki Holland (Lead Vocals, Guitar, Ukulele, Mandolin)
Mae James (Backing Vocals)
Jon Anderson (Lead Guitar)
Jeremy Cohen (Bass)
Monte Porenta (Keys)
Ron Maday (Drums, Percussion)


Original material: 02 hrs : 20 min (29 songs)
Cover material: 02 hrs : 00 min
CDs released: 2
Average Draw: 70
Largest crowd: 2,500
Have sound: PA


PAST SHOWS:
Campus Martius Summer in the Park, Detroit, MI
Ford Arts, Beats & Eats, Royal Oak, MI
Windsor-Essex Pride Fest, Windsor, ON CAN
Circle City Pride, Indianapolis, IN
Motor City Pride, Detroit, MI
Beacon Park Summer Night Concert Series, Detroit, MI
The Front Porch (Concert Series), Ferndale, MI
The Old Miami, Detroit, MI
PJ's Lager House, Detroit, MI
Pub 1281, Clinton Township, MI
Billy's Tip n' Inn, White Lake, MI
Noel Night, Detroit, MI
Toby Keith's I Love This Bar and Grill, Auburn Hills, MI
Saugatuck LGBT Music Fest, Fennville, MI
The Tangent Gallery, Detroit, MI
The Hamilton Street Pub, Saginaw, MI
Club 54, Sterling Heights, MI
The Red Remote Show @ the U-Detroit Cafe, Detroit, MI
The New Way Bar, Ferndale, MI
Walkerville Brewery, Windsor ON, Canada
EL Club, Detroit, MI
Campit, Saugatuck, MI
Fruit Punch @ Walkerville Brewery, Windsor, ON (Canada)
The Elks Lodge, Ferndale, MI
Affirmations (Aff Cafe), Ferndale, MI
Windover's Music in the Valley, Owendale, MI
Feral Fest, Clarkston, MI
Miracle Coffee, Walled Lake, MI
Stiletto's, Inkster, MI
The Detroit Pub, Clinton Township, MI
Inferno, Inkster, MI

---
---
on the Air
Nikki has been gaining regular notice on stations across the country, in current rotation on Q Country 107 (Michigan), and recently being featured on AM800 "Hear and Now" on iHeart Radio and in Detroit/Windsor, CAN. They can also be heard at the Hard Rock Resort in Puerto Vallarta, MEX in regular rotation with songs like "Bump Bump". Featured on Musicapage.com and Local Metro Music, Nikki's band is also a regular to Radio-Opie's Top 10 Weekly Countdown. Nikki has been interviewed on other internet radio stations including Radio Opie, Raw Radio X and Cave Radio. Check them out on Cave Radio's "Big and Bigger", "Smoke and Mirrors" and "Unite Us All".

Nikki can be heard on more online radio stations, including The Indie Authority, Hamill's Halfway House, and more.

Fan Reviews of Hold On...
"I'm loving your album. It is my go-to in the car when NPR gets on my nerves. So a lot. You've captured where I am right now with "Hold On" and you made me cry while driving, so know that your lyrics are damn impactful. You also have the privilege of being the song in my head when I wake up-"the only words". So thanks for making your album."

"Great energy and focus. I see that you are on your way to creating a whole repertoire of energetic and emotional songs with maximum impact that will inspire and motivate the listener. Good job."

"This song can be a hit for sure...I would listen to it again for sure and seek it out on iTunes or the radio."

"Could definitely see myself listening to this song on the radio. It's really nice and I hope to hear more from this band in the future!"

"I liked the singer,...this woman hit all the notes in my mind I like hit. Kind of cool, almost sexy!"

"Sassy introduction with full commitment from the vocalist."

"The artist has a melodious and soft singing voice...The lyrics are well written and pretty original. The artist sings with a lot of heart and I really like the chorus. I like how the song is not monotone and keeps changing the pace and style."